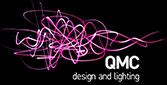 QUIRKE MCNAMARA CONSULTANCY INTERIOR ARCHITECTURE PROJECT MANAGEMENT LIGHTING
PORTFOLIO
LIGHTING

< BACK



QMC bring another dimension to our projects with lighting design. By introducing fibre-optic star ceilings, colour changing lighting within water features & pool lighting, LED lights, Cold Cathode illuminated shower walls, colour changing taps, feature light art installations, illuminated bars & colour changing rooms that can be controlled by the flick of a switch to allow for a different mood whether a vibrant red or subtle blue. QMC believe the element of lighting is crucial within our designs to accentuate & highlight materials & features to add the wow factor. AV systems such as Creston & Lutron allow the client the flexibility to set the mood at the touch of a button for relaxing, social settings, parties, cinema rooms etc.

Please click here for more information on our specialist lighting service.



QMC Lighting are delighted to have been short-listed in the Lighting Design Awards 2010 under residential lighting for Ice White House London.